AddROM FRP Apk Download 2023 (Bypass Google Account)
AddROM FRP Bypass Apk is an Android app that you can use to unlock the Google Account lock on any Android phone without using a PC.
BYPASS GOOGLE ACCOUNT 2023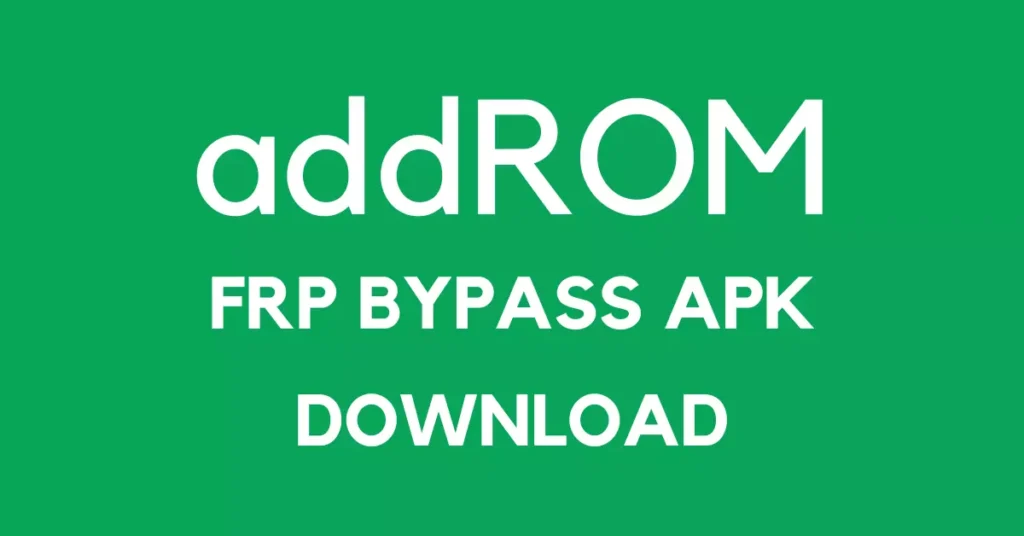 AddROM FRP Bypass Apk
AddROM Bypass app is a unique application that unlocks many developer settings that aren't officially available or allowed.
AddROM can bypass your Android's Factory Reset Protection lock. It is handy if you've lost your Google account login information or bought a second-hand device with FRP. AddROM lets you get back onto your device without FRP.
| | |
| --- | --- |
| Name | addROM Bypass APK |
| Publisher | addROM |
| Genre | Tools |
| Version | 1.0 |
| Size | 28.47M |
| Requires Android | 5.0 and up |
| Updated | 2 days ago |
You can use AddROM FRP Apk on various Android devices, including Android Lollipop 5.0, Marshmallow 6.0, Pie 9.0, Nougat 7.0, Oreo 8.0, Android 10, Android 11, Android 12, and Android 13.
You may also try out vnROM to unlock your Google account verification on an Android device.
Luckily, you do not need a computer to use it, and it can be installed directly on your device in minutes.
What is FRP?
FRP is Google's Factory Reset Protection for Android devices. After a factory reset, it requires your login info to prevent anyone from accessing your device. In addition, it restricts third-party users from using your phone if your device is lost.
Google introduced the this feature in the latest Android versions to protect user data and privacy during thefts. FRP stands for factory reset protection, and the process of unlocking it varies with each new Android version and phone. To avoid the FRP protection lock, it's important to remember your Gmail and password information.
FRP turns on automatically when you set up a Google account on your Android phone for the first time. If you reset your phone without removing the Google account, you'll need to log in with the same Gmail and password that you set up earlier on the device.
Features of AddROM Bypass
Using this app, Android devices can bypass the Factory Reset Protection lock and enable the device to restart without losing any data. Some key features of the Addrom Apk include:
Quick FRP Unlock
The main benefit of the AddROM is its ability to unlock FRP conveniently. The APK can unlock FRP in seconds without flashing or rooting the device. In this way, bypass on Android devices becomes a fast and efficient solution.
Android Compatibility
It is compatible with various Android versions. Whether you have an older or newer Android smartphone, the APK will work with Android 5.0 and above.  Likewise, the bypass application supports various Android devices, including popular brands like LG, Huawei, and Samsung.
User-Friendly
It is easy to use and user-friendly. To unlock FRP, you must install the APK and follow the instructions. App usage requires no additional software or a computer, making it convenient and easy to use.
Guaranteed FRP Lock Removal
Addrom lets users successfully bypass the FRP lock on their Android devices. As a result of the tool's high success rate, users can be sure that it will work on their devices regardless of their type or model.
Secure Frp Bypass
An extensive testing process has been conducted to ensure the application is free of viruses, malware, and other harmful components. The app presents no danger to the user's device.
Customized Bypass Methods
This tool includes a variety of customizable bypass methods to go along with different Android devices. You can select the method that fits your device to bypass the FRP lock on your device.
Streamlined
Users can bypass the FRP lock using this app without enabling USB debugging or rooting their devices. This feature makes it easy to bypass the FRP lock without technical knowledge.
Global Multilingual Support
Users can choose from various languages, such as English, Spanish, French, German, and many more, to make their use easier.
Regular Updates
You can enjoy a hassle-free experience without worrying about manually updating Addrom FRP Bypass APK to the latest version; The tool automatically updates to the latest version to ensure that you always have access to the latest and most compatible version of the tool.
Benefits of Using Addrom Apk
Addrom FRP Bypass breaks the factory reset protection (FRP) lock on Android devices; however, this lock protects against unauthorized access, but it might be problematic under certain conditions.
Here are some reasons to consider using this app to unlock your Android device.
Maintain Device Access
Most people use Android FRP Bypass when they forget their Google account credentials. Performing a factory reset on your device requires you to enter your Google account details to regain access; you might need to remember these details. The Addrom bypasses this requirement and allows direct access to the device.
Buy Unlocked Devices
Used Android devices require caution when purchasing. Some sellers may refuse to remove Google accounts from the devices, preventing you from using them; you can overcome FRP by using the Bypass application, removing the previous owner's Google account and linking it to yours.
Data Security
When you forget your device password, consider a factory reset. However, you can still access your device using the Addrom FRP app, which will not erase your data or settings.
Custom Rom Or Rooting Sets Off FRP Lock
Installing the Addrom app, you can bypass the FRP lock and regain access to your device if you've installed a custom ROM or rooted your Android device.
Full Device Functionality
FRP locks can restrict your access to key files or apps. Still, using Bypass FRP, you can remove the FRP lock and restore full device functionality.
What to Do Before Using Addrom Bypass Apk
AddROM bypasses Android devices' security and unlocks features that may be otherwise unavailable.
Taking precautions before proceeding is important to ensure a hassle-free and smooth experience with this tool.
Check Device Ownership
Be sure to be the legal owner of the device before using AddROM Bypass. Using this tool on devices you own or have explicit permission to modify is recommended. You can face legal trouble if you try to use it on someone else's device.
Data Backup
You may experience data loss due to using AddROM Bypass. Prepare a backup of your data beforehand to prevent losing important information. To ensure your files are safe, you can store them on a cloud system, external hard drive, or other backup methods.
Follow the Instructions
To avoid complications, the user must follow the instructions carefully when using AddROM FRP Bypass. Skipping steps or making mistakes could result in damage to the device resulting in it being unusable. You should carefully read the instructions before proceeding; if you are still determining, ask a professional for assistance.
How to Use AddROM FRP Bypass APK (Step-by-Step)
There is a problem with accessing your phone due to Factory Reset Protection (FRP). Here's how to install and use FRP Bypass APK to unlock the FRP on your smartphone.
Step 1: Download the Addrom Frp Bypass Apk
Firstly, you need to download the Addrom FRP Bypass app. You can search the internet for the download link, and then click on it to begin the download process.
Step 2: Apk File Installation
Using the file manager app on your device, open the downloaded APK file and tap on it to begin the installation process. In case of prompting, allow the installation from unknown sources to proceed.
Step 3: Home Screen Launch
The app will be available on the home screen after the installation.
Step 4: Select The Right Option
You will be presented with three options as soon as you launch the app. If you can recall your Google login credentials, select "Google Login." Otherwise, if you cannot recall your login credentials, select "Bypass."
Step 5: FRP Bypass and Reset
Following selecting the appropriate option, click "FRP Bypass" and select "Reset."
Step 6: App-Close and Reboot Your Device
Once you have tapped the reset option, close the app and reboot your device. As a result, your phone will now be workable.
How to Fix AddROM FRP Bypass Apk Errors
With AddROM, Android users can bypass Factory Reset Protection (FRP) and access their devices. As with any other software, AddROM Bypass may encounter problems. Here are some of the most common ones and how to fix them.
Issue 1: Addrom Apk Not Installing
The most common issue users experience when using AddROM Bypass is that the APK file needs to be installed on their device. It can be due to security settings.
Solution: If you wish to install the AddROM FRP Bypass APK on your device, you must enable installation from unknown sources in the device's security settings by going to Settings > Security > Unknown Sources and enabling it.
Issue 2: FRP Bypass Not Working
Sometimes, you still need help bypassing FRP even after installing the latest version of the AddROM App. It may be due to the tool's incompatibility with your device.
Solution: Make sure you use the latest version of the AddROM Bypass App that is compatible with your device model. You can check the compatibility on the tool's website or from the developer. If you still face issues, try searching online for other tools that work better with your device model.
Issue 3: Device Stuck In A Boot Loop
There is also the possibility that users may experience a boot loop while using FRP Bypass, resulting from corrupt firmware or an incomplete installation.
Solution: To resolve a boot loop, factory reset or flash the firmware using Odin (Samsung primarily). The firmware file for your device model should be downloaded and flashed via Odin. Professional or step-by-step guides are available online if you are still familiar with the process.
FAQs
Does AddROM Bypass Apk work on all devices?
Nearly AddROM Bypass FRP Apk is compatible with most Android smartphones running version 5.1 and above. This includes top brands such as Samsung, Motorola, and Sony. However, some devices may not be compatible, so be sure to check before installing.
What if AddROM Apk does not work on my device?
It may be necessary to seek professional assistance or use another FRP Bypass tool if AddROM Apk does not work for your device. The most important thing to remember is that not all FRP tools are compatible with all devices, so try different tools until you find one compatible.
Is AddROM Apk safe for use?
A safety test has been conducted on the AddROM Bypass FRP Apk, and it is free of malware and other malicious software that may harm your device or compromise your data. The application should, however, be downloaded from a trustworthy source to ensure it is the Authorized Version.
Can I use AddROM Bypass without technical knowledge?
There is no technical expertise necessary to use this Apk. Users can easily use it thanks to its user-friendly interface. The process involves downloading and installing the Apk and then using the instructions to bypass the FRP.
Is Bypass FRP Apk free to use?
AddROM FRP Apk is free, and you won't have to pay any fees to use it. However, some websites could require you to pay a fee to download the Apk, so it is recommended that you check the source before downloading.
Conclusion
AddROM FRP apps allow you to bypass Google account verification on Android devices easily. This Apk can provide excellent assistance if you need help accessing your device due to a forgotten Google account password.
Before using the Apk, download it from a reliable source and check your device's compatibility. It enables you to restore access to your device and secure your personal information.