Bypass Google Account 2023 (vnROM.net/Bypass FRP)
vnROM Bypass APK is an Android application used to unlock FRP from all Android devices.
In this article, you'll find the latest version of all Apks along with a direct download link. We've also included a step-by-step guide to help you bypass the Google account verification lock without needing a PC. It's all designed to make the process smooth and straightforward for you.
You can discover all the shortcuts for FRP/bypass apps and tools on GsmNeo FRP and remove the Google account verification lock from all Samsung phones.
vnROM FRP Bypass APK
This is the most trusted app and secure application to bypass the Google Account Verification lock from all Android devices. You can download the latest 2023 version.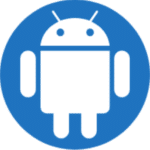 | | |
| --- | --- |
| Name | vnROM Bypass |
| Publisher | vnROM.net |
| Genre | Tools |
| Version | 1.0 |
| Size | 28.47M |
| Compatible | Android 5, 6, 7, 8, 9, 10, 11, 12 |
Download vnROM Apk
All vnROM.net Bypass Files
Features
This is a Trusted APK to bypass Google account verification.
This tool is Compatible with almost most Android devices.
This is a very Simple FRP lock solution.
You don't need to register to use this app.
This app is completely Free to use APK.
UI is simple and Easy to use.
This app is Ads-free.
How To Install and Use APK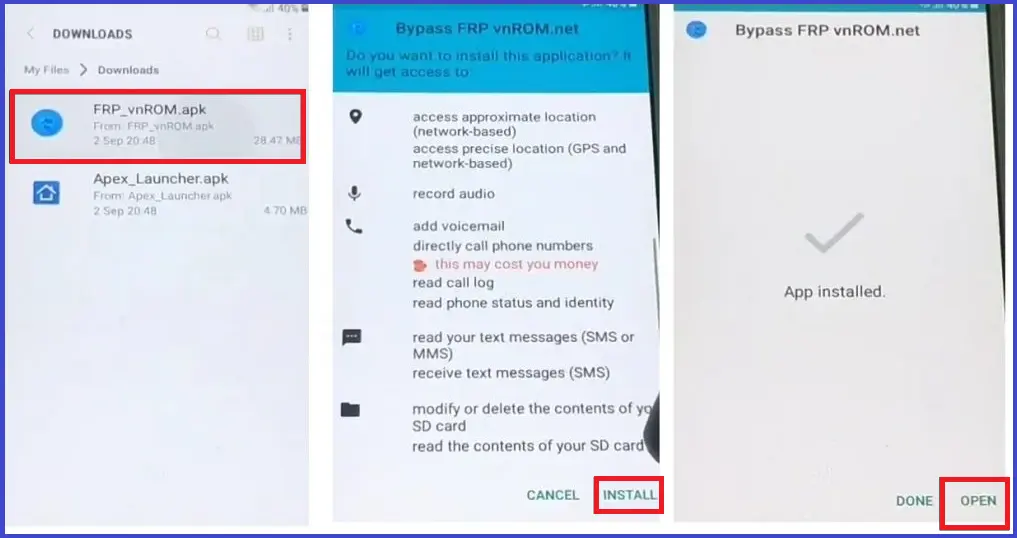 Download the APK File and put it on USB.
Connect the USB using an OTG cable.
Turn on your Android device.
Connect to a WiFi network.
Now tap the Home button three times to activate talkback.
A new menu will pop up.
Tap on "Talkback Settings".
Tap the home button 3 times again.
Go to Help & Feedback.
Go to "Get Started with Voice Access".
Then you will see a YouTube Video there so tap on the Play button.
Then tap or click on "Getting Started with a voice" in that video.
It will open to YouTube.
Tap on the User icon on YouTube.
Then click on Terms and Privacy Policy.
Then tap on cancel and press on Bookmarks.
Go to the Download History option.
Now tap on "My Files" and it will let you open your USB.
Install the APK from USB on your Android device.
You can go to settings and allow unknown sources.
After successful installation, go to settings and factory reset your Android device.
Now you can set up your device without asking to verify the old account.
You can also use AddROM Bypass which is a similar alternative to bypass FRP.
Frequently Asked Questions
What is FRP?
After successfully resetting your Android phone, you'll need to confirm your Google account information. This should match the same Gmail account details you were using prior to resetting your device. The Android system takes this necessary step to ensure your ownership, enhancing security by requesting your Gmail account email and password.
If you happen to forget your previous Google account credentials after the factory reset, there's a security checkpoint in place known as FRP (Factory Reset Protection).
What is FRP Bypass?
FRP is the abbreviation of Factory Reset Protection.
When you perform a reset on your Android device that's linked to a Google account, the device prompts you to enter your Google account information after restarting. However, even if you happen to forget the email or password associated with your Gmail account, there's a solution.
You can regain access to your device! The FRP Bypass application comes to the rescue, allowing you to unlock your Android device and use it once again. This helpful tool ensures that your security remains intact while giving you the freedom to enjoy your device.
Is it compatible with all Android devices?
No, this is primarily designed for Android devices powered by MediaTek (MTK) processors. Its effectiveness could be limited to devices featuring diverse processor types. Additionally, compatibility can vary depending on the specific device model, Android version, and security patch level.
Are there alternative methods to bypass Google account verification?
Yes, there are alternative methods to bypass Google account verification on Android devices. These methods can include using other tools, and contacting the device manufacturer or authorized service centers.
Final Verdict
So, this is the complete tutorial on how you can easily bypass FRP lock using vnROM. You can simply download and install this application and follow our installation guide. I hope it works for you. Good luck!